This was a two-phase project for Denver Concrete we completed in Westminster, CO.  Phase 1 being a complete stamped concrete patio replacement, new driveway and back sidewalk and shed pad pour.  Phase 2 was a complete removal of backyard sod replaced with 2 drains and artificial turf.
This backyard was transformed with a new stamped patio, sidewalk and shed pad. However, the main focus on this project was the new artificial turf. The homeowner had mud issues from poor drainage and the inability to keep his grass alive. This problem was solved by installing 1,950 sq ft of artificial turf and two buried downspouts. We dug the drain spout extensions out first and made sure the water issue was corrected before installing the turf.  The homeowner had a large dog leading him to choose the Imperial K92 turf with Envirofill.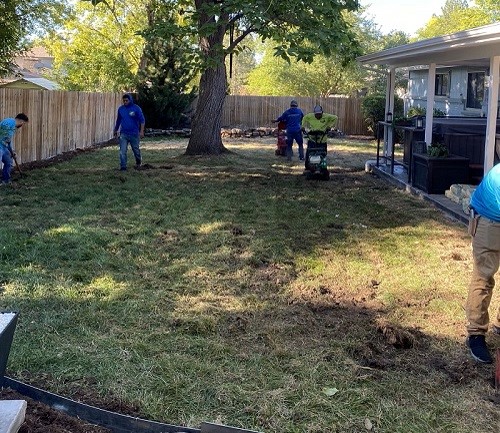 We highly recommend homeowners wanting to install turf with pets to strongly consider using Envirofill as it reduces pet urine odors by 99%.  Envirofill also suppresses bacterial growth and you can really smell the difference. It does not track all over and typically remains unseen.
The guys made quick work of the existing sod, capped the sprinkler lines and even repaired a cut low voltage wire bringing power to the new shed.  Soil prep is a very important part of artificial turf installations.  Without the appropriate preparation with crushed gravel and and granite, your turf will sag over time.
For the base layer of artificial turf, we strip any organic material that may be in the area first.  Next we compact the soil and add a crushed concrete layer that will not expand or contract and also allow water to drain.  Once that is graded and compacted, we add a layer of crushed granite to finalize our grade.  These steps are critical to having a successful turf installation and should not be skipped.  Our subgrade prep is the most time consuming part of our installs and what separates our company from others.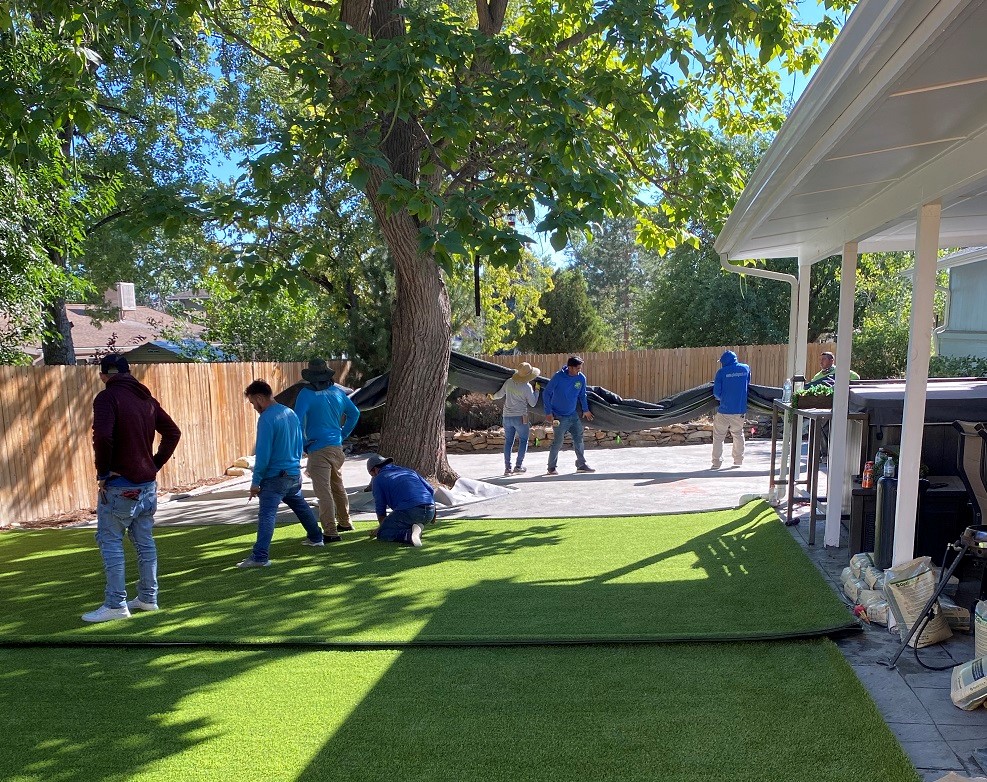 Once we removed the sod and capped the sprinklers, we found our levels. On two sides of the newly poured patio and sidewalk gave us our starting point. We set edging on the sides where there was landscaping mulch. Figuring out the low and high spots we determined 20 tons of crushed breeze would be required. We hauled in the material with wheel barrows to prevent any damage on the newly poured concrete. After compaction, it was time to haul in the turf. Three large sections were needed for the nearly 2,000 SF area.  These rolls are extremely heavy!  It takes 6 or 7 guys to carry in each roll.
Once the turf was laid out we completed gluing the seams, cut around the tree and anchored the turf down. With all of this complete it was time to add the Envirofill.  With thousands of pounds of infill added, the last step is to power sweep the turf.  Once swept, the infill acts as a holder to support the blades of grass to keep them standing up.  Infill helps keep the turf looking more like artificial grass and keeps it in place.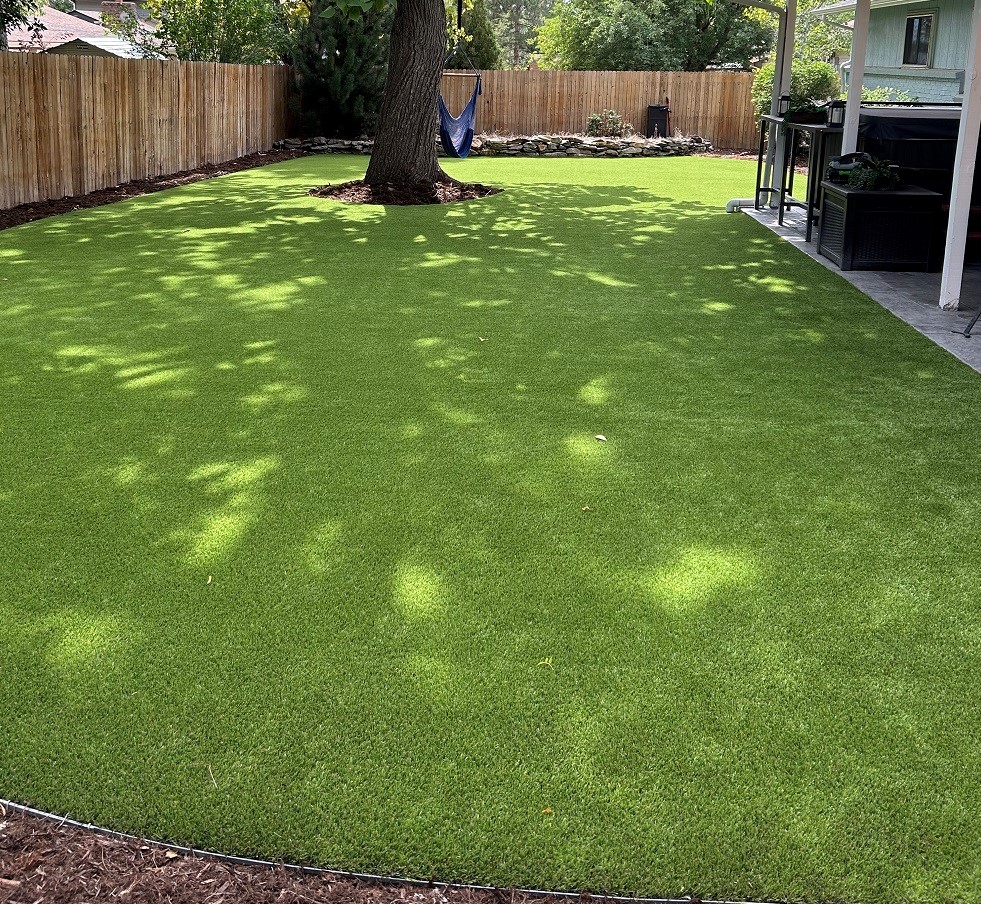 If you're interested in a quote for a turf installation; we'd be happy to schedule a free estimate.  Give us a call (303) 848-8447 or fill out our estimate form to schedule your at home consultation.