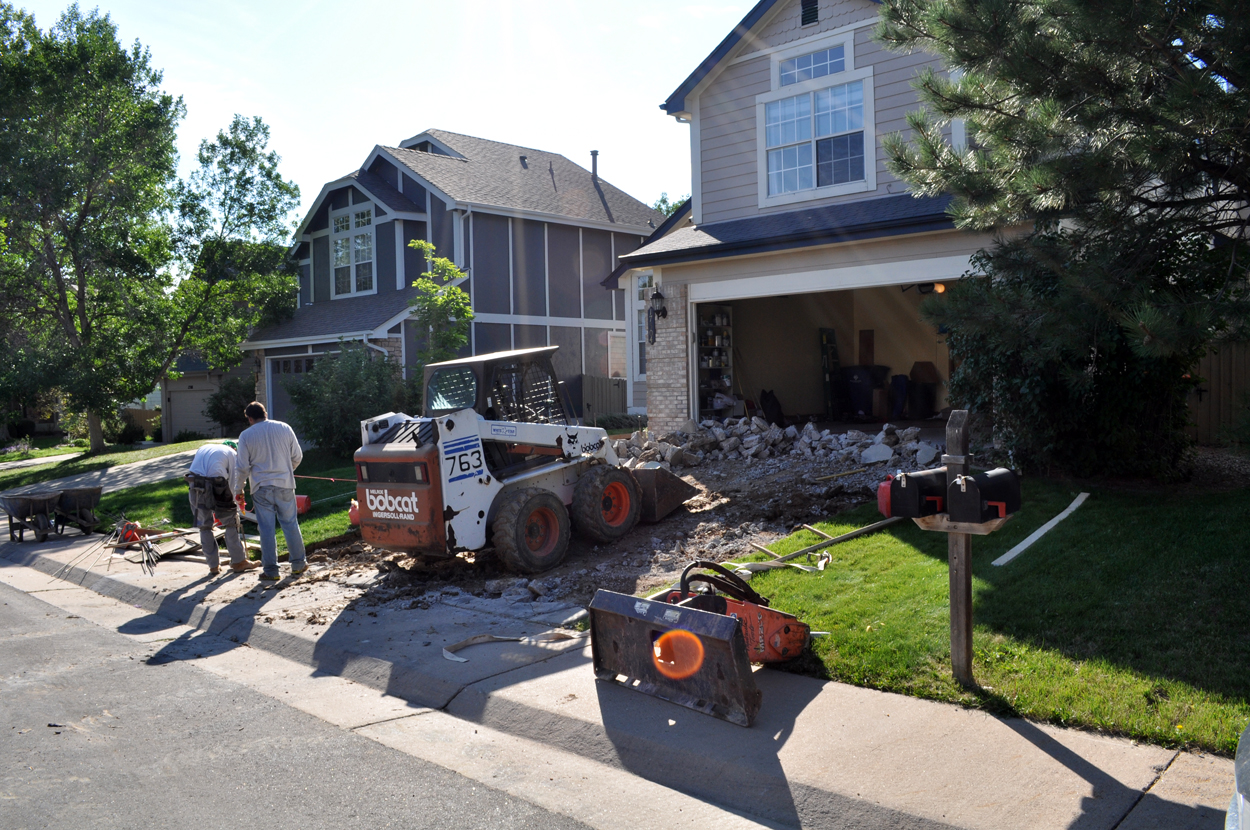 (Clements) driveway project; concrete removal and new pour in Parker, COWhen we are on our concrete appointments, we get asked all the time - "would it save us money if I tore out the exisiting concrete or asphalt myself?"
The answer is short is yes, it would save you money on your project.  What it wont save you is time. 
Most concrete companies charge very little to do the concrete removal to earn your business.  We are able to tear-out, haul away and dispose in a fraction of the time a home owner typically can.  We have all of the equipment needed and we know exactly what needs to be removed so we can set the forms and pour your new concrete.  Often times a homeowner will remove the concrete and we will still need to go in and remove dirt, regrade or other prep work to get the area ready. 
What may take a homeowner an entire weekend, our company can do in a morning.  When comparing apples to apples, the concrete removal is such a small fraction of the job, it almost doesn't make sense for a homeowner to do the work themselves. 
What Does it Cost to Remove Concrete?
When we are working on a concrete project that simply needs the concrete replaced, we can tear-out for as little as $1/sq ft.   This is a great deal for a homeowner who doesn't have the time or desire for a home project on the weekend.  If we need to remove the concrete and dirt to regrade for your new pour, you can figure $2-3/sq ft.  If you're driveway is 600 sq ft, the $600 you would spend on the concrete removal with our company simply can't compare to the rental fee for equipment and the time to break up and haul away yourself.  For some this is a fun project homewoners enjoy, for some it is not worth it.
Do Concrete Companies Charge to Dump Concrete?
The answer is yes but this really depends on how a company wants to write up their proposal.  Some companies don't include it on their concrete quote but they add it in on other items.  Our company charges a dump fee on our quotes so you can see what you are spending your money on.  This also allows us to give you an accurate flatwork rate per square foot to compare against other companies.  Our dump fee is always minimal but we do charge for one.  We take the removed concrete to a recycling center in Denver and charge our customers the same fee we are charged plus $20 for gas.  
If you would like an estimate for your concrete project, please give us a call (303) 848-8447