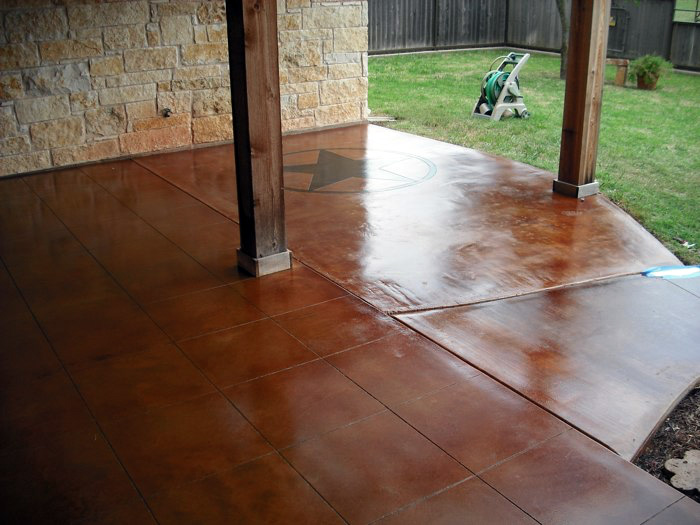 We offer concrete staining for both interior and exterior floors in the Denver metro area.  Acid staining concrete is gaining popularity in residential and commercial flooring because it is cost effective, durable and requires very little maintenance. 
Staining Concrete is great for:
Patios

Sidewalks

Driveways

Pool Decks

Interior Flooring

Garage Floors
How Acid Staining Works
When you acid stain concrete, the first thing you need to do is remove any existing floor coverings and then clean the concrete.  This allows the acid stain to get into the pours and gives it the consistant reaction and coloring effect.  Next the acid stain is applied and needs to dry up to 48 hours before the sealer is applied.  If we are working on an interior floor, we will use a film-forming (epoxy or urethant) sealer and if we are working on an exterior floor we will use an acrylic sealer that actually has granuals to give grip to the floor to prevent slip and falls.  Both sealers help prevent future staining of the concrete whether its household spills or pet stains, they will not effect the coloring.  After a years use, we recommend waxing the stained concrete to restore the shine and bring out that rich color of the stain.  When it comes to decorative concrete, staining is the most cost effective way to go on new or well maintained concrete.
For exisiting concrete slabs that are in rough shape, we recommend a concrete overlay before any staining.  An overlay will cover up any stains or undesirable characteristics in the existing concrete, providing a finish that appears like a brand new concrete pour.  As long as there aren't any major cracks, we can overlay your concrete slab (interior or exterior) to save the hassle of tearing out and repouring new concrete.